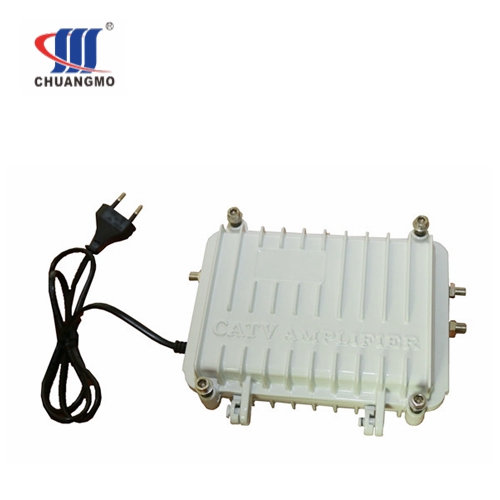 CATV 2WAY TRUNK AMPLIFIER
CMRA-05B series trunk amplifier is to compensate for the attenuation caused by the cable transmission of the cable TV signal and the high and low end of the signal, so that the signal can be transmitted stably, with high quality and long distance. Applicable to all kinds of cable TV systems, satellite TV systems, residential CCTV, surveillance systems, hotels, hotel audio-visual systems, as well as military and school education audio-visual systems.
Description
Package Information
Inquiry
CMRA-05B series Trunk amplifier. adopt aluminum die-cast casing. in good wafer-proof and dust-proof performance. with the high stability/high anti-thundering protection switching power supply, can provide 220VAC or 60VAC. Return path reserved for bi-directional signal transmission.
With dual outputs port. nominal gain up to 30dB. branch port 20dB. or dual port equal output 26dB optional. with CM/CSO GaAs hybrid module, output level can be 102/106dBuV.

Product features

High quality waterproof and dustproof aluminum shell, good shielding and heat dissipation performance

20dB Adjustable ATT. and EQ

CM/CSO GaAs high output hybrid module in forward path, ensure the noise figure of the amplifier

high stability/high anti-thundering protection switching power supply AC220V and AC60V optional
FAQ:
Q: What is the Max. Gain for this model?
A: Nominal port 30dB, branch port 20dB or dual port each 26dB.
Q: What is the Max. output level for this model?
A: with CM transistor hybrid module output is 102dBuV each port. with CSO GaAs hybrid module output up to 106dBuV each port.
Q: How long do you need for production? like 10pcs.
A: This is one of our hot sale item. ready stock.
Q: Do you accept payment via West Union?
A: We can accept payment via: West Union, Moneygram, Paypal,TT, Wechat,Alipay.
Package details: 1piece/box. 10pcs/carton. N.W.: 0.95Kgs/piece; G.W.: 12Kgs/carton. 0.077CBM/carton.