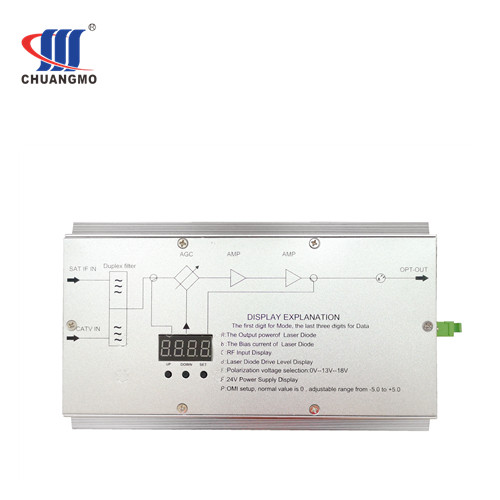 Satellite Mini Optical Transmitter
CMOT-20FT2 mini satellite L-Band optical transmitter, adopts quality coaxial laser and direct modulated way. It can transmit 950~2600MHz L-Band analog or digital satellite signal (SAT-IF) receiving by satellite aerial radio high frequency head, to realize total transparency, high quality, long distance transmission through optical fiber. It also can sue satellite L-Band up/down link. Optical operating wavelength of CMOT-20FT2 is optional as 1310nm or 1550nm.
Description
Package Information
Inquiry
CMOT-20FT2 mini optical Satellite+CATV optical transmitter, operate wavelength of 1310nm or 1550nm optional.
With seperate Satellite RF Input port and seperate CATV RF Input port.
1550nm optical transmitter, suitable for DWDM to realize network upgration and capability-expansion. it can work together with EDFA,YEDFA to amplify the optical power to longer distance and more subscribers. compatiable with all FTTX PON technology.

Product features

Seperate Satellite and CATV RF Input port

Wide 45~2600Mhz as operating bandwidth,available for L-band analog and digital signal transmission

Wavelength 1310nm/1550nm optional

Smart digital display & control monitor system,simplified operation

Compatiable with all kinds of FTTX PON Technology
Package Details: 1piece/Box. 10pcs/Carton. N.W.: 1.2Kgs/piece; G.W: 14.00Kgs/Carton.