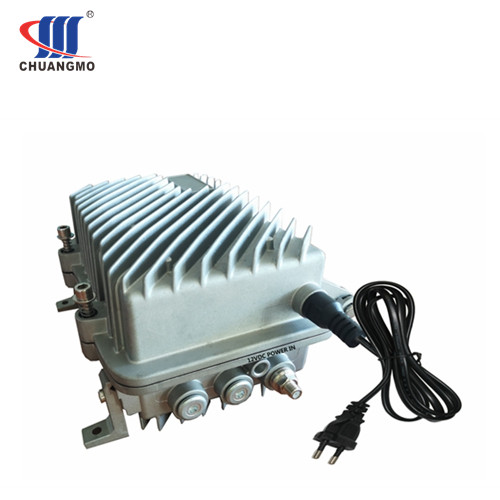 FTTH PON Outdoor Optical Amplifier
CMOA-D Outdoor Optical Amplifier is suitable for some remote areas which cannot build indoor head-end. it is mainly used for television image signals, digital TV, telephone voice signal and the signal of the data (or compressed data) optical fiber transmission over long distance. Meanwhile, CMOA-D combined AC and DC power together. our 12VDC solved outer filed AC inconvenience problem.operators can use all types of 12VDC power such as solar panel or power adaotor. meanwhile, for AC power, operators can choose in between 220VAC and 60VAC as per your network requirement.
Description
Package Information
Inquiry
CMOA-D 1550nm Outdoor AC+DC Optical Amplifier which designed for FTTH triple play field network construction.
free from head-end investment and perfect fullfill signal amplification for long distance.

Product Features

Exclusive AC+DC combined power supply

IP67 waterproof casing

Muitiply DC supply options such as solar panel, power adaptor

1/2/3 output ports available(with WDM)

Adopt high performance exported Kangning Erbium doped fiber amplifier, energy conversion efficiently

Optical input power range from -3~+10dBm, optical output power range from 13~26dBm.

Built-in microcomputer automatic monitoring circuit, monitoring the output power and working state of pump laser. the front panel 65x17mm LCD display can indicate accurately work parameter of device, ensure the machine superior performance
FAQ.:

Q: For DC, all power of 12VDC then can give input?
A: Yes. as long as its 12VDC. 3A. power with F-Female connector can support.
Q: How do you accept payment?
A: We can accept Paypal, West Union, Moneygram and T.T.
Q: What is your leadtime? and MOQ.?
A: Delivery is 5days. MOQ.:1piece.