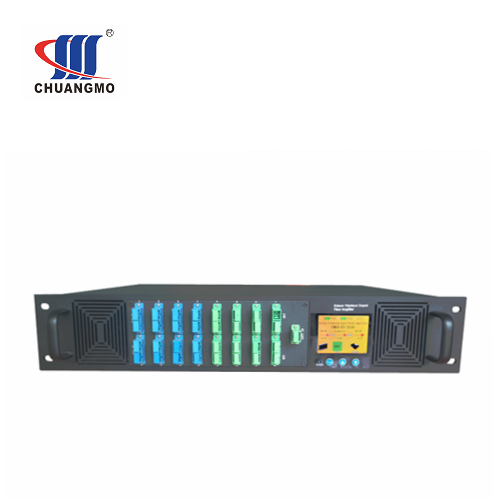 16 Ports High Power WDM Erbium Doped Fiber Amplifier
CMOA-EYxx series FTTH PON EDFA(Erbium Doped Fiber Optical Amplifier) has 8/16/32/64 ports. unlike traditional Erbium Doped Fiber Amplifier design. CMOA-EY series adopt China first TOUCH SCREEN design. which provide real-time monitoring of EDFA working status and faulty alarming detection. YEDFA is a low noise, high performance, high power, multi-ports optical amplifier with gain spectrum band within 1540~1563nm. Each output port for optical amplifier has built-in well-performed CWDM. Every external up-link optical port of optical amplifier can connect with OLT PON port very conveniently. Each 1550nm (CATV)'s output optical port multiplex 1310/1490n's data stream, in order to reduce the quantity of the component and improve the index and reliability of the system. with SNMP function backup. CMOA-EYxx optical amplifier can be compatible with any FTTx PON Technology. It offers a flexible and low-cost solution for three-network integration and Fiber to the Home.
Description
Package Information
Inquiry
CMOA-EYxx High power multi-port optical amplfier. working bandwidth of 1535~1565nm. It is mainly designed for CATV or FTTH triple-play network, which can achieve not only single wavelength cable tv signal transmission, but also can meet CWDM single fiber 3-wavelength. Best choice for CATV large medium-sized fiber optical transmission network.
Shenzhen Chuangmo CMOA-EY series smart erbium doped fiber amplifier adopt China first and exclusive TOUCH SCREEN, offers the work index and alarming system real time status monitoring, which brings fast trouble shooting guidance for operators. As the pump laser can switch off automatically when optical power is missing, it also offers security protection of the laser.Meanwhile, the national standard webmaster transponder provide remote control and management of the EDFA, such as pump status, alarming system.
Meanwhile,CMOA-EY EDFA has extremely low noise figure, the entire unit adopts twin-stage amplification, and the pre-amplifier adopts low noise EDFA, output cascade adopts high power EYDFA. When input optical power Pin=0dBm, the noise figure of unit is ≤5.5dB Unlike other kind of product which need high optical power input to maintain lower noise figure.
CMOA-EY optical amplifier adopts the world's top class pump laser such as JDSU(Lumentum) and active optical fiber. Perfect APC, ACC and ATC control, excellent design in the ventilation and heat-dissipation ensure the long life and high reliable work of pump laser. RS232 and RJ45 offer serial commutation and SNMP network management port.
CMOA-EY with carrier-class reliability and network security management, high quality, high reliability and excellent cost performance and is ideal for system integrators and system operator.
CMOA-EY high power optical amplifier in 19" 2RU chassis, total output power up to 41dBm (13000mW), use LC/APC, offers 8/16/32/64(Max.) optical outputs, 64 uplink optical ports.

Product features

Exclusive Touchscreen design, attractive & convenient

Each output optical port is with built-in high performance CWDM, single fiber three
wavelengths, which can save optical fiber resources largely.

Simplified machine-room links, improve the system reliability, and largely reduce the .
network maintenance cost

Can compatible with any FTTx PON technology: EPON/GEPON, GPON

Total output power optional 27~41dBm

19" 2U rack up to optional 64 up-link ports, which used in OLT; And 64 1550nm output
optical ports, multiplex the 1310/1490nm data stream.

Built-in low noise pre-amplifier, not necessary EDFA cascade, extremely lower the CNR,
MER degradation of the system

Low noise figure ≤5.5dB

Perfect RS232 ,SNMP

Telecom level safety reliability and network management

Efficient space, simple and reliable in construction/maintenance

Dual power supply optional, 1+1 backup

Can reduce the 98% device space usage

Can reduce the 85% device purchase cost

Can reduce 95% power consumption

Industry's best price-performance
Chuangmo FTTH Optical amplifier Package Details:
8port EDFA package: 1piece/box. 3pcs/Carton. G.W: 21.00Kgs/Carton. N.W.: 5.80Kgs/piece. 0.03CBM/carton;
16port EDFA package: 1piece/box. 3pcs/Carton. G.W: 24.00Kgs/Carton. N.W.: 6.00Kgs/piece. 0.03CBM/carton.