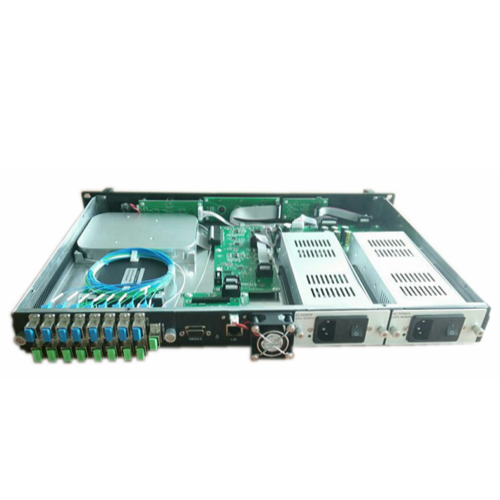 FTTH PON EDFA 1U chassis
The CMOA-Bxx series high-power optical amplifier is a high-power multi-port output fiber amplifier with a gain spectrum bandwidth of 1535~1565nm. It is mainly designed for applications of CATV or 1~8 continuous strip channels (ITU wavelengths).Which can achieve single-wavelength cable TV transmission, CWDM single-fiber three-wave, flat gain, it is an important equipment for building CATV large Medium-sized optical fiber transmission network.
Description
Package Information
Inquiry
● Erbium co-doped double-clad fiber technology.
● Built-in low-noise preamplifier eliminates the need for EDFA cascading, greatly reducing system CNR and MER degradation.
● Output total power range: up to 23dBm~37dBm (5W) optional.
● Perfect network management interface, in line with SNMP network management protocol.
● Adopt a mature dual-power hot backup structure dedicated to servers, and cooperates with a microcomputer-controlled intelligent temperature control system to effectively improve system reliability.
● The back panel can be flexibly removed and replaced according to the number of output ports.
FAQ:
Q: What is the Max. output power?
A: Our 1U EDFA max. is 26dBm output (TOTAL), Max. output 8, and each port output power max. 16dBm.
Q: How long do you need for production? like 5pcs.
A: Our daily production capacity is 5pcs/day. added burn in test time. normally delivery is within 4 working days.
Q: Do you accept payment via West Union?
A: We can accept payment via: West Union, Moneygram, TT,Wechat,Alipay.