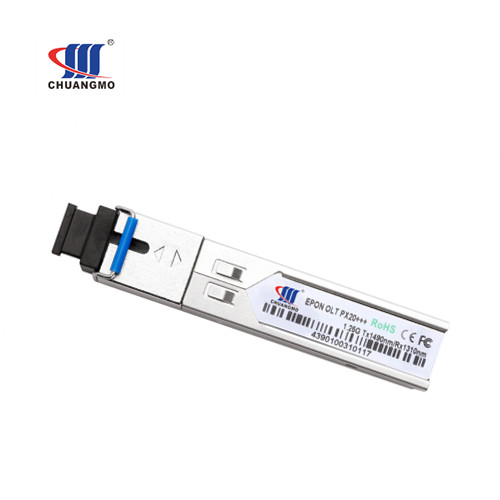 OPTICAL MODULE Gpon C+++ 2.5G/1.25G 20KM SFP Huawei
Chuangmo GPON OLT SFP Transceiver which also shortly called as OLT SFP module. Used in GPON OLT. support data links asymmetric Tx2488Mbps/Rx1244Mbps(GPON) GPON OLT application up to 20Km transmission distance. Compatiable with most OLTs such as ZTE, Huawei, Mikrotik, Cisco,H3C, etc.
Description
Package Information
Inquiry
Price: USD0.99/piece
Chuangmo Optical Module C+++ series 2.5G/1.25G 20KM Gpon Transceiver Huawei Gpon SFP 7.5dB. No need firmware.
Application:
--Gpon OLT SFP Transceiver for Ethernet Passive Optical Networks (GPON)

--Fiber to the Home(FTTH), Fiber To the Curb(FTTC), FTTx

-- Point to Multi Point Service(P2MP)
Support ITU-T G.984.2 GPON OLT C++ Enhanced application
Single fiber bi-directional data links with symmetric 2.488Gbps Tx and 1.244Gbps Rx
1490nm continuous-mode transmitter with DFB LD
1310nm burst-mode receiver with APD-TIA
2-wire interface for integrated digital diagnostic Monitoring
Receiver RESET, Signal Detect, RSSI function indication (RESET, RX_SD, RSSI)
SFP package with SC/UPC receptacle optical interface
Single +3.3V power supply
Operation case temperature 0~70°C
RoHS6 compliance
Compatiable reference
Complies with Huawei, ZTE, Cisco, H3C, China OLT. customization available.
OPERATING CONDITION:
Parameter

Unit

Min.

Typical

Max.

Storage Temperature

°C

-40




85

Operating Case Temp for C-temp

°C

0




70

Operating Relative Humidity

%

5




95

Power Supply Voltage

V

3.15

3.3

3.45

Supply Current

mA






600

Bit Rate for Tx

Gbps

2.488

Bit Rate for Rx

Gbps

1.244
CHARACTERISTICS:
All performance is specified at whole working temperature and conditions
For GPON OLT 2.48G C+++ Pon Module SFP Transceiver package details:
10pcs/Tray, 100pcs/Box, 1000pcs/Ctn. G.W.: 30Kgs/Ctn, 0.04CBM/Ctn.