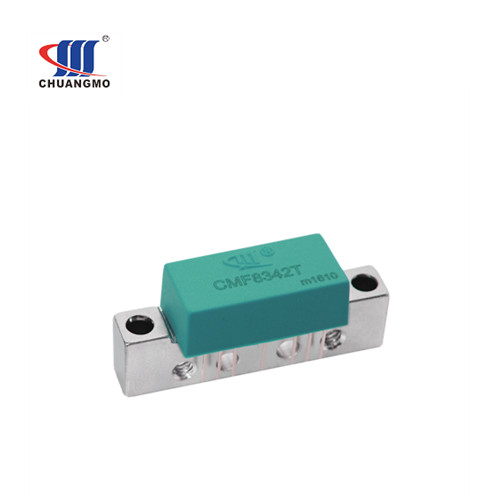 CMF8342T CATV Amplifier Module
CMF8342T series CATV Amplfier Module which used in CATV Optical Receiver, Line extender, CATV Booster, Trunk ampplifier. for amplifier RF signal purpose. Chuangmo CMF8342T is perfect replacement for NXP,PDI,Motorala,anadigics.etc branded CATV modules. with 860Mhz bandwidth and 24V working voltage. CM have full range of hybrid modules which can be used in CATV Optical transmitter, Optical receiver and Line extender.
Description
Package Information
Inquiry
CMF8342T series CATV amplifier module, which used in CATV RF amplifier, Trunk amplifier, Optical receiver, Booster for amplifier RF signal.
CMF8342T series hybrid module with high dynamic range which operates with a voltage supply of 24V in a SOT115J package. The high gain module consists of two casecaded stages both in cascode configuration.
All modules available here in CM.
--Differs from Gain
Such as 18dB(BGD812), 20dB(BGD814), 22dB(BGY887), 25dB, 27dB, 30dB(BGY887B), 34dB.
--Differs from Forward and Return
Such as CMR2302T(BGY67A). R stand for Return path.
--Differs from push pull and power doubler
Such as CMD8202T(BGD814). D stand for power doubler;

Product features

Excellent linearity

High reliability

Extremely low noise

Excellent return loss properties

Perfect replacement for NXP, PDI, Motorala,etc. branded modules,such as BGY888, BGY835C
Applications
-CATV Line extender systems operating in the 40 MHz to 870 MHz frequency range
-CATV optical node systems operating in the 40 MHz to 870 MHz frequency range
All of Chuangmo CATV Modules have varies of cap color for your choice. such as standard green, elegant transparent, shining orange, soft beige, coffee brown and dark blue.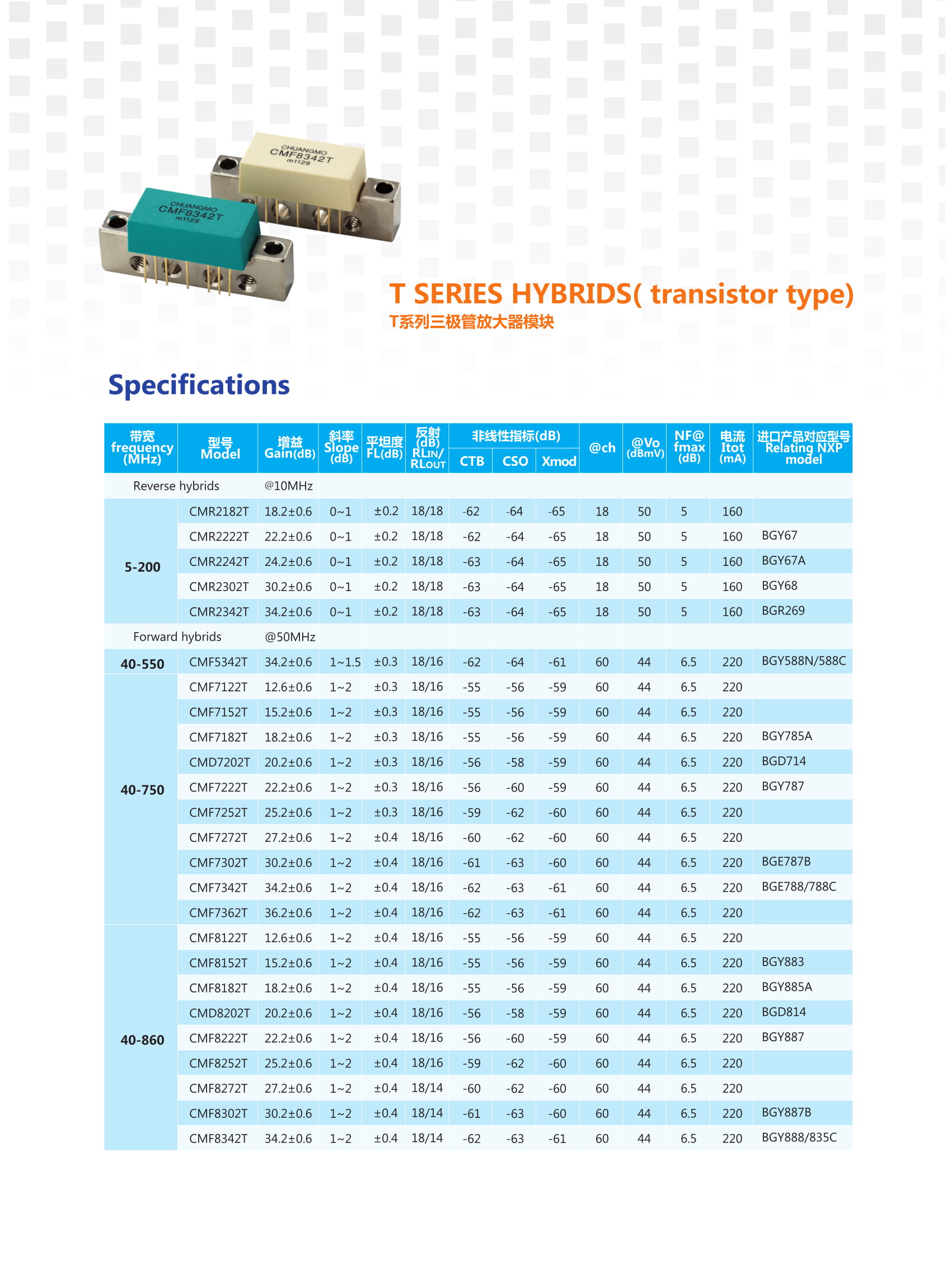 FAQ:
Q: What does CMF8342T stand for?
A: CM is our brand name. F standard for forward path, 8 stand for 860Mhz, 34 stand for 34dB, 2 stand for 24V;
Q: What is the gain of the module?and what if i need 1Ghz. 1.2Ghz?
A: CMF8342T is 34dB gain amplifier module in replace of BGY888, BGY835C.
Yes. we also have GaAs 1Ghz and GaN 1.2Ghz module available.
Q: Except of the voltage of 24V, is there any other voltage?
A: Yes. there are many more like 3.5V, 5V, 6V, 8V, 12V.
Q: How to assure Chuangmo CMF8342T module can perfect replace my present optical receiver?
A: Our Module have been widely used in both China and abroad Optical receiver manufacturers. Meanwhile, we can provide free sample for test approval. OEM/ODM also acceptable.
Q: How's your company supply capacity of it?
A: Our daily production quantity comes to 2000pcs.
Q: Do you accept payment via West Union?
A: We can accept payment via: West Union, Moneygram, Paypal,TT, Wechat,Alipay.
Package details: 25pcs/tray,100pcs/Box, 1000pcs/carton. G.W.: 17.00Kgs/carton. N.W: 0.13Kgs/piece.