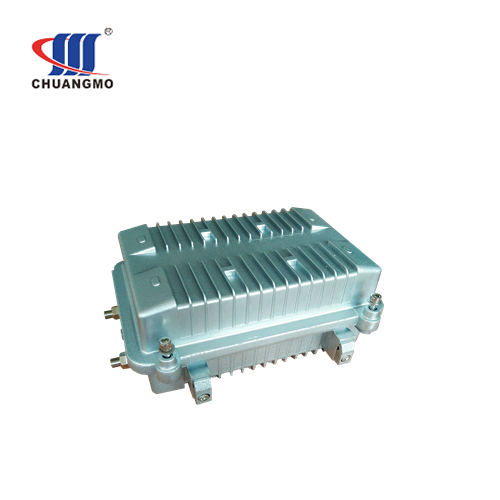 CATV 4 Outputs OUTDOOR AGC OPTICAL RECEIVER
CMOR-10CA Outdoor 4 outputs AGC Optical Receiver which is widely used in distribution network of Cable TV.With 4 Outputs ports which can provide 102/106dBuV high output for analog and digital signal.
Description
Package Information
Inquiry
Chuangmo CMOR-10CA optical receiver is an outdoor 4 outputs AGC optical receiver.
It is mainly used in the building, community or village with concentrated users and high level multi outputs distribution network.
CMOR-10CA with Dual power supply, 220VAC and 60VAC. it is suitable to be used in the place where faces electricity shortage and require single equipment to drive multi end-users.
CMOR-10CA AGC optical receiver adopts dual amplifier catv modules and 1 AGC optical modul. Smart digital display and adjustable attenuation and equilibrium makes the debugging extremely convenient.There are two outputs level for choice, standard 4 outputs each 102dBuV or 4 outputs each 106dBuV. and it can work at extremely low fiber input by -17dBm under digital signal. Optimized circuit design guarantees the perfect performance and is the ideal model for CATV network.
Product features
-Adopt waterproof aluminum shell and the waterproof level could reach to IP67 grade;
-Double shield panel that can ensure the excellent EMC index;
-Advanced GaAs low noise amplified circuit increases the receiving sensitivity;
-AGC control range +2~-8dBm, output level unchanged. CTB, CSO remain stable;
-Smart 3 digit Nixie tube, clear input power, ATT. EQ figure monitoring;
- Independant 60VAC port;
-Adopt anti surge lighting circuit that can protect he power supply effectively with external test port that can run test without opening the housing.