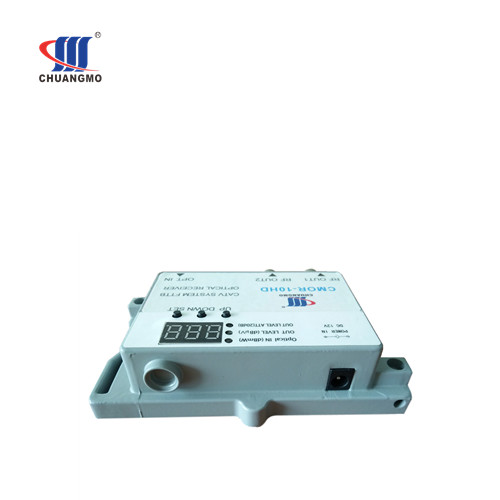 FTTB AGC Optical Receiver
Chuangmo CMOR-10HD two-way output(additional power pass function) AGC optical receiver is a product specially designed for FTTB/FTTH HFC network, with attractive alluminum die-cast case, low power loss, high output level, and equipped with smartest digital display & control system. it is the first choice for building a cable TV FTTB/FTTH network.
Description
Package Information
Inquiry

Product features

Smart digital display & control system, ATT.EQ.output level 20dB adjustable

Additional power pass function for dual output port

Attractive aluminum shell with good heat dissipation ability

RF channel, full GaAs with low noise amplifier circuit, higher output power, higher gain, lower distortion

With AGC optical input, assure stable output level

Multi-level lightning protection device (TVS transient suppression diode), lightning protection

SC/APC or FC/APC or custom optical connectors.

Male or female RF interface, single or dual port RF mount optional.

Main application
FTTB HFC network