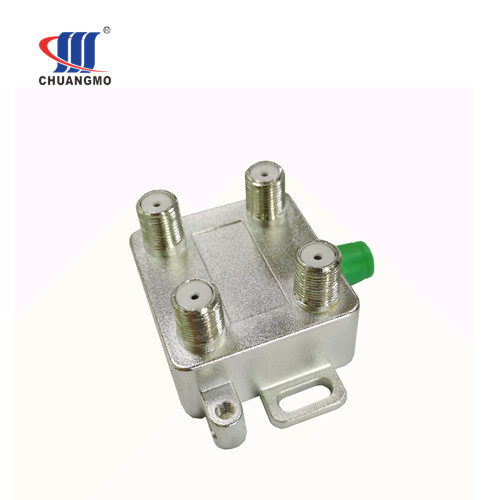 FTTH Passive Optical Receiver 4way
CMNOR-P460 MINI Passive Node 4Way is a home optical receiver. It is suitable for FTTH (fiber to the home) network optical fiber user access terminals to realize digital signal input.
Description
Package Information
Inquiry
CMOR-P460 Mini FTTH passive node 4way is used for digital signal transmission in FTTH network.
It has two wavelength available. 1100~1600nm version and 1550nm(WF,which input 1100~1600nm, but only left 1550nm.filted other wavelength,which avoid the image interference from other wavelengths). 1550nm filter node version used in FTTH triple play system. while 1100~1600nm widely used in CATV transmission.

Product features

Smart Zinc alloy cabinet.

No power required.

Excelent linearity/non-linearity,high output level

Output power>60dBuv(PIN=0dBm)

SC/APC &FC/APC optical connector for optional, male or female RF connector.

Multi-stage lightning protection devices (TVS transient suppression diode),strict lighting protection system, ensure the equipment working under safe status.
FAQ:
Q:What is the Frequency? except from mini node 4way, do you have any other options?
A: Frequency is 1000Mhz. for passive node we have 1way, 4way, 6way and 8way.and passive wdm node.
Q: How long do you need for production? like 200pcs.
A: Normally in 10 working days.
Q: Do you accept payment via West Union?
A: We can accept payment by West Union, Moneygram, Paypal, TT,Wechat,Alipay.
Package Details: 2pieces/box. 200pcs/Carton. G.W: 14.00Kgs/Carton.N.W.: 0.064Kgs/piece.
0.03CBM/carton.