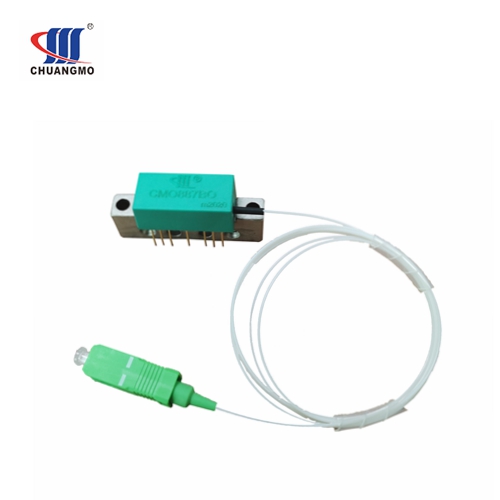 CMO887BO CATV Optical Receiver Module
CMO887BO series Optical Receiving Module which used in CATV Optical Receiver, Node. to Convert Fiber signal to RF signal. Chuangmo CMO887BO is perfect replacement for NXP,PDI,Motorala,etc branded Optical modules. with 860Mhz bandwidth and 24V working voltage.87dBuV output level.meanwhile, Fiber connector SC/APC and FC/APC both available.
Description
Package Information
Inquiry
CMO887BO(previous model number: CMO807SC) series CATV fiber optical receiver module, which used in CATV Optical receiver(Node), to convert fiber signal into RF signal.
CMO887BO series is in standard SOT115 package where the non-jacketed fiber has either no connector or has an FC/APC or SC/APC connector.
The amplifier supply voltage pin and the photo diode bias voltage pin both connect to 24 V (DC).
The modules have a mono mode optical input suitable for 1 290 nm to 1 600 nm wavelengths, a terminal to monitor the photo diode current and an electrical output having a characteristic impedance of 75Ω.

Product features

Excellent linearity

Low noise

Excellent flatness

Standard CATV outline

Rugged construction

Gold metallization ensures excellent reliability

High optical input power range

Perfect replacement for NXP, PDI, Motorala,etc. branded modules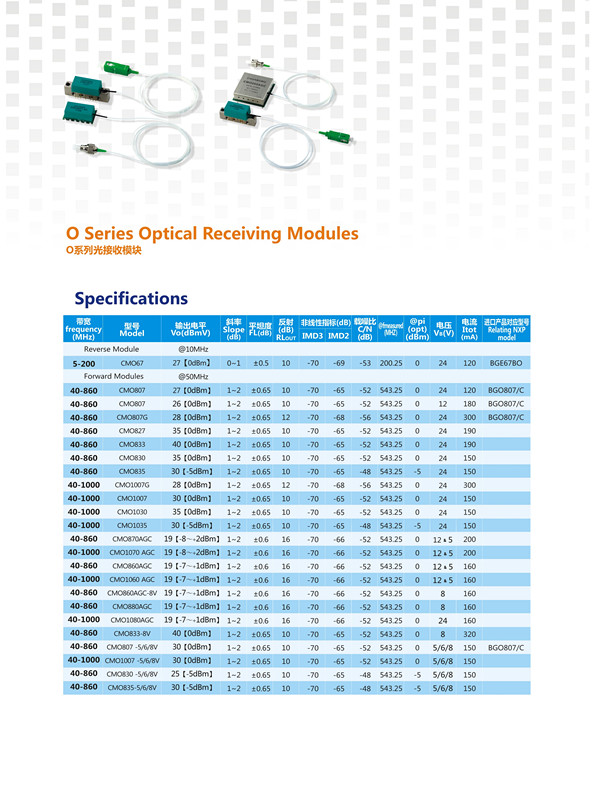 Applications
-CATV optical node systems operating in the 40 MHz to 870 MHz frequency range
All of Chuangmo CATV Modules have varies of cap color for your choice. such as standard green, elegant transparent, shining orange, soft beige, coffee brown and dark blue.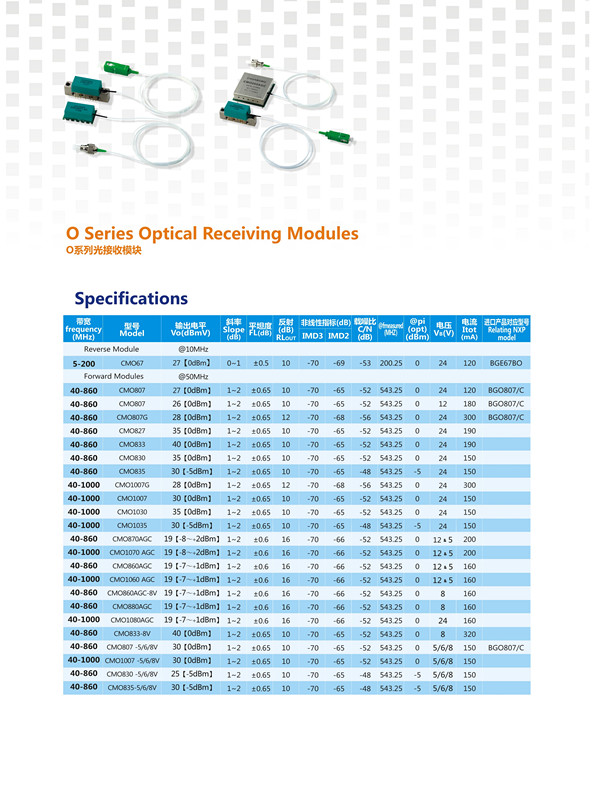 FAQ:
Q: What is the Max. output of the module?and what if i need 1Ghz. 1.2Ghz?
A: CMO807SC is 87dBuV output. we also have 100dBuV higher output model available.
we also have 1Ghz GaAs Optical Module and 1.2Ghz GaN optical module.
Q: Except of the voltage of 24V, is there any other voltage?
A: Yes. there are many more like 3.5V, 5V, 6V, 8V, 12V.
Q: How to assure Chuangmo CMO807SC module can perfect replace my present optical receiver?
A: Our Module have been widely used in both China and abroad Optical receiver manufacturers. Meanwhile, we can provide free sample for test approval. OEM/ODM also acceptable.
Q: How's your company supply capacity of it?
A: Our daily production quantity comes to 2000pcs.
Q: Do you accept payment via West Union?
A: We can accept payment via: West Union, Moneygram, Paypal,TT, Wechat,Alipay.
Package details: 12pcs/tray/Box. 360pcs/carton. G.W.: 10.50Kgs/carton. N.W: 0.019Kgs/piece.