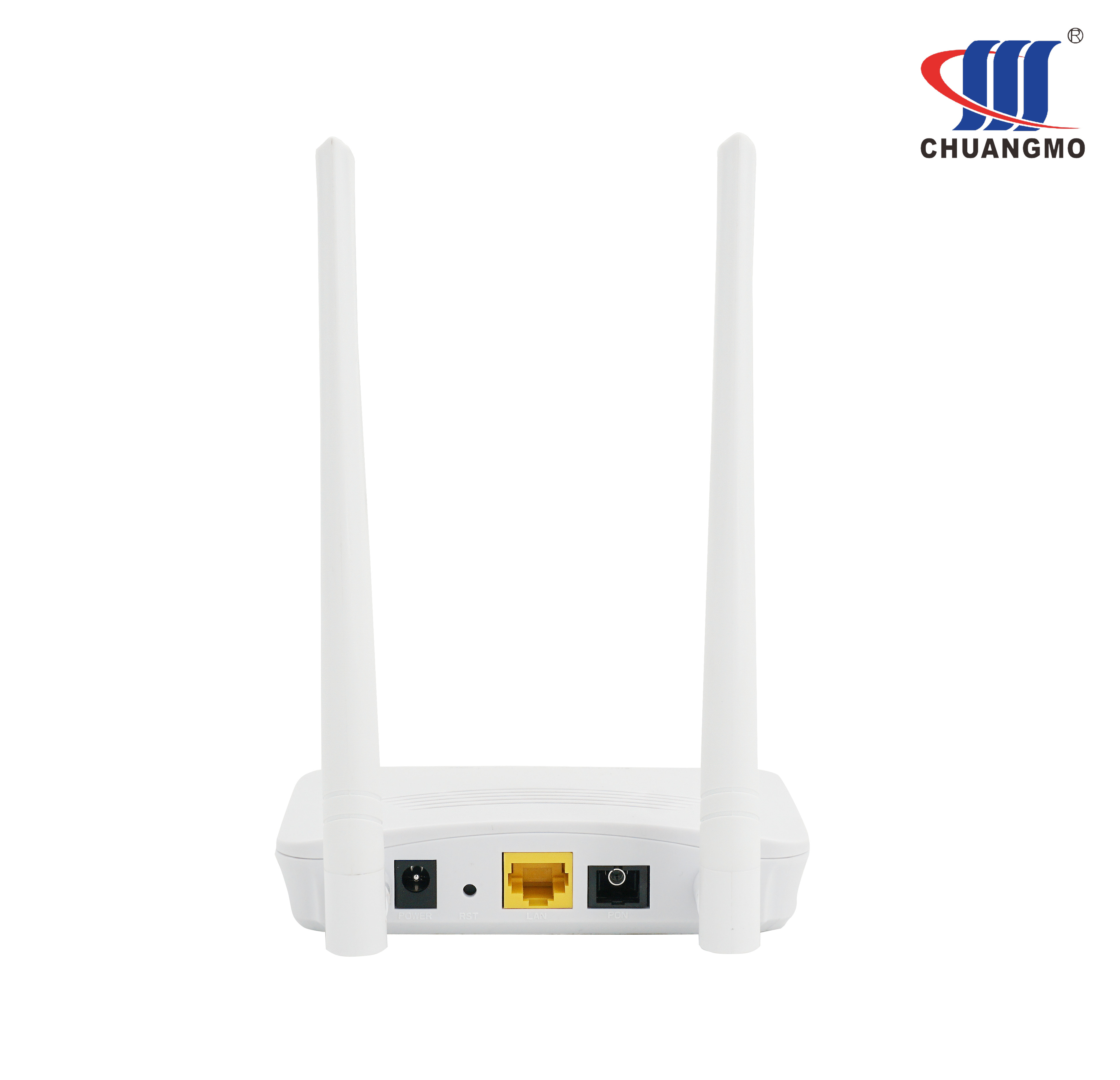 1GE+WIFI GEPON ONU
Chuangmo 1GE Gpon,Epon,Xpon ONU/ONT.G/EPON 1GE Security ONU is support Dual mode(EPON and GPON), It can also be applied to a wide temperature environment, and also has a powerful firewall function. G/EPON 1GE ONU meets telecom operators FTTO (office), FTTD (Desk), FTTH(Home) broadband speed, SOHO broadband access, video surveillance and other requirements and design a GPON/EPON Gigabit Ethernet products. The box is based on the mature Gigabit GPON/EPON technology, highly reliable and easy to maintain, with guaranteed QOS for different service. And it is fully compliant with technical regulations such as ITU-T G.984.x and IEEE802.3ah.
Description
Package Information
Inquiry
There are three versions 1GE ONU/ONT.

XPON Dual mode model/GPON model/EPON model.
CM2801RW equipped with realtek chipset. a mini GEPON Routing ONU modem designed for fulfilling FTTH ultra-broadband access request of home and SOHO users.
IT suports NAT/firewall and the technology of 802.11n WiFi (2T2R) so on functions.It is based on the stable and mature GEPON technology, which has high performance/price ratio, and the technology of layer 3 Ethernet switch as well.It is highly reliable and easy to maintain, with guaranteed QoS, and fully compliant to IEEE 802.3ah EPON standards.

Product Features

Dual Mode( can access gpon/epon olts ).
Plug and play, features auto-detecting, auto-configuration, and auto firmware upgrade, etc.
Integrated OAM remote configuration and maintenance function.
Support rich QinQ VLAN functions and IGMP Snooping multicast features.
Functions like transceiver diagnostic monitoring, transmitter disable, etc.
Fully compatibility with OLT based on Broadcom/PMC/Cortina chipset.
Support NAT, Firewall function.
Integrated 802.11b/g/n, 300Mbps
Technical items

Description

CM2801RW

Main chip

Realtek

Upstream PON interface

1 EPON interface, SC single-mode/single-fibre, symmetric 1.25 Gbps

Wavelength

Tx 1310nm, Rx 1490nm

Optical interface

SC connector

Downstream LAN interface

1 10/100/1000Mbps auto adaptive Ethernet interfaces, Full Duplex/Half Duplex, RJ45 connectors

WLAN

Compliant with IEEE802.11b/g/n, 2R2T, 300Mbps, One internal antenna and one external antenna

Indicators

5 indicators, for status of power supply, PON port and 1 Giga-Ethernet port.

DC power supply

+12V, external AC-DC power adaptor

Power switch

1

Power consumption

≤3W

Operating condition

Operating temp: -5~+55℃
Operating humidity:10~90%(non-condensed)

Storing condition

Storing temp: -30~+60℃
Storing humidity:10~90%(non-condensed)

Dimension

120mm*78mm*28mm(length*width*height)

Net weight

0.25Kg