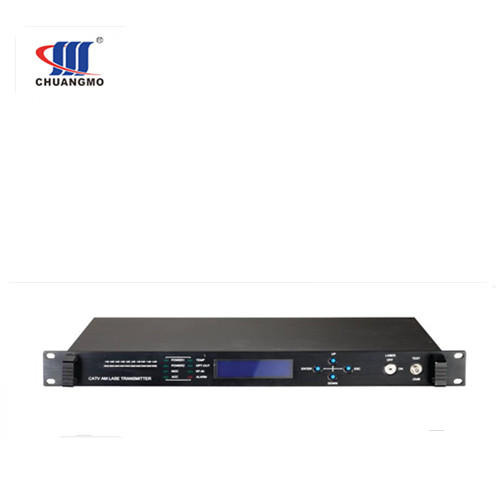 1550nm Direct Modulated Optical Transmitter
Chuangmo CMOT-DE15x is a 1550nm direct modulation optical transmitter with high index and AGC function. It adopts high linearity and low chirp DFB laser, built-in pre-distortion compensation and AGC, APC, ATC closed loop control, which improves the system index obviously.1550nm optical transmitter is designed according to CATV standard. It modulates CATV RF amplitude signal into 1550nm optical signal and then transmits it to optical node in HFC network through single-mode optical fiber. It is mainly used for TV signal medium-sized network transmission and the distribution network with short distance, it can be amplified after stage.
Description
Package Information
Inquiry
CMOT-DE15x Direct modulation will lead to high laser chirp (Laser's bias current is modulated by signal and the optical spectrum shifts and shakes). Laser chip will interact with dispersion effect caused by standard single mode fiber (SMF-28), which will generate serious distortion in the place of 1550nm. This kind of distortion will become more serious with the increase of transmission distance, bandwidth and channel number.
At present, international high performance 1550nm direct modulation has no obvious performance inferior while transmitting an analog and digital multiplexing full channel signal with transmission distance≤20Km or transmitting digital load with transmission distance≤40Km.

Product features

Low chirp, high linearity DFB laser, chirp compensation.

Dual module RF driver , high efficient laser pre-distortion adjustment.

Full-automatic OMI control, AGC & MGC.

Intuitionistic modulation status display.

Built-in dual back-up power supply, switch automatically .

Casing temperature auto-control, ensure the long life of the laser.

Main application

Provide IPTV, VOD value-added service in second-grade service area (Sub-HE).
Analog digital mixed transmit <15Km (common distance ≤ 10km).
Pure digital load <40Km.

WDM narrow band multiplex >70Km.