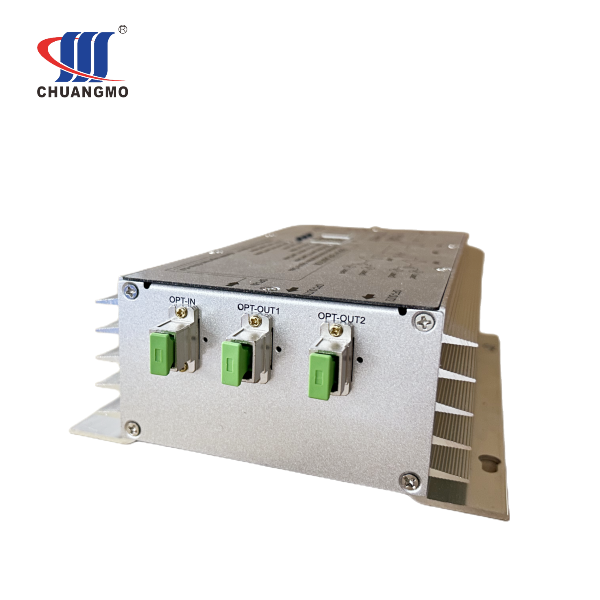 CATV 1310nm MINI Optical Transmitter 4*10mW
Chuangmo FTTH CMOT-410T3 1310nm catv Mini dual Fiber In 10+10+10+10mW Optical Transmitter. mostly used in short distance signal transmission.(analog signal 10~15Km, digital signal 20~30Km). with fiber input, it can also work as fiber optical repeater. and standard RF input, RF test port.
Description
Package Information
Inquiry
FTTH CMOT-410T3 series catv 1310nm mini 10+10+10+10mW fiber optic transmitter is a smart & compact device, which combined all useful function of 1U rack mounted transmitter at lower cost. best choice for short distance signal transmission for FTTx network.
CMOT-410T3 1310nm internal fiber optical transmitter, adopts high linearity DFB coaxial laser, output power 2~12mW optional.(accept customization. by default is (10+10+10mW+10mW). with RF input(75~85dBuV suggest), RF Test port(-20dB) and AGC Fiber In.
Front plate adopts 3 digit nixie tube display for Optical input power, Optical output power, laser bias current, RF input level and OMI control. in 1dB stepping control. full view for transmitter working status monitoring.
Built in CM Chuangmo branded Hybrid module and AGC Optical module, perfect pre-distortion adjustment circuit and laser APC,ATC closed loop control circuit.

Product features

Aluminum compact housing, excellent heat-dissipation

Low chirp, high linearity DFB laser, chirp compensation

Smart digital display and control system, easy adjust

Input 100~240V Output DC12V stable output AC/DC power adaptor
12VDC power in can also receive power from UPS power supply or Solar power supply both as per construction condition

CM branded hybrid module and AGC Optical module with great linearity

Suitable for analog and digital signal transmission
FAQ:
Q: What is the Max. output power?
A: it will be 10dB+10dB+10dB+10dB
Q: How long do you need for production? like 10pcs.
A: This is one of our hot sale item. ready stock.
Q: Do you accept payment via West Union?
A: We can accept payment via: West Union, Moneygram, Paypal,TT, Wechat,Alipay.
Package details: 1piece/box. 10pcs/carton. N.W.: 1.20Kgs/piece; G.W.: 14.00Kgs/carton. 0.052CBM/carton.